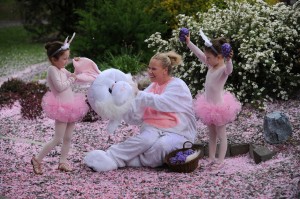 BOUNCING bunnies, bonny babies and all the fun of the fair were enjoyed by large crowds who turned out in Tralee this Easter to celebrate the Tír na nÓg Children's Festival.
The CEO of Tralee Chamber Alliance, Kieran Ruttledge, said: "The great variety of family fun events that were staged in the town attracted large crowds to Tralee. The cold weather was forgotten while families enjoyed a warm Tralee welcome at the various festival event venues. We look forward to welcoming the town's many visitors back again in the future for another holiday or short break."
The children's party at Caball Toymaster on Easter Saturday was complimented by the spectacular Carousel in the Square while the quack was mighty at the Basin for the Duck-a-thon Charity duck race.
Families turned out in great numbers over the weekend to attend a variety of events at some of Tralee's hotels including the: Egg Hunt in Ballygarry House Hotel, Puppet Show at Manor West Hotel, Craft Fair at the Carlton Hotel and Bonny Baby Competition in the Grand.
Tralee Bay Wetlands Centre celebrated its first birthday by playing host to a Teddy Bears Picnic while there were big attendances at Kingdom Greyhound Stadium, Ballyseedy Garden Centre, Kerry County Museum, Bowling Buddies and Spring Nature Trail in Gortbrack Farm.
The fun will continue in Tralee until the end of the Easter holidays with great value offers available from the town's many attractions, while the mini-funfair will remain in the Square until Sunday 7th April.
The Tír na nÓg Children's Festival was kindly supported by Tralee Chamber Alliance and Tralee Town Council.